Photo by Jon Asato on Unsplash
"Submission? I hate it every time you mention that word!" With tears flowing uncontrollably, a middle-aged married woman poured her heart out to me during counseling. I allowed her to calm down, so that she can tell me more. "My husband is selfish, arrogant, violent, worldly, unloving toward our kids… and submitting to such a man is impossible for me!" I nodded in agreement, not because I do not believe in God's command for wives to submit to their husbands, but because I understood: she was struggling to submit to her husband.
Paul instructed the wives at Ephesus, "Wives, submit yourselves to your own husbands as you do to the Lord" (Eph. 5:22), but He also instructed the husbands, "Husbands, love your wives, just as Christ loved the church…" (Eph. 5:25). Though it is the responsibility of wives to submit, it is also the responsibility of husbands to be Christ-like.
My responsibility is to be a better leader in my own household, one that my wife will not have difficulty submitting to and my children will not struggle to obey. I need to work on this daily. No one else is responsible for it except me. By God's grace, I know I can become that person.
There are five areas I am working on regularly through the help of the Holy Spirit, and others around me, to become a better leader at home.
Character is the most important aspect of who I am, especially at home. It has to do with the patterns of my attitudes, words, and behavior. This is the real me that others can perceive and interact with. Although I cannot completely control how others see me, I am responsible for who I am becoming. It's all by grace, but my lifestyle affects who I become over time. Paul says in 1 Corinthians 9:24-25:
Do you not know that in a race all the runners run, but only one gets the prize? Run in such a way as to get the prize. Everyone who competes in the games goes into strict training. They do it to get a crown that will not last, but we do it to get a crown that will last forever.
Who I become over time is the result of how I rearrange my life to live for God. It won't happen automatically. It is the fruit of the Holy Spirit working in me as I cooperate with Him. My attitudes, words, and behavior are simply outflows of my heart.
Competence is another area I'm working on. I need to work on my knowledge and skills as a husband and father. I intentionally learn about theology and ministry skills because I'm a pastor. But I'm afraid I'm not as focused in doing the same thing as a husband and father. The knowledge and skills that I need for these roles do not come to me naturally; I must learn them intentionally.
My wife once handed me a book on how to be a better husband and father. "Read this," she said. "It will help you." To be honest, I resented it. I felt threatened. I thought to myself, "You don't think I am a good husband and father?" But the Spirit of God convicted me: "Are you too wise not to learn anymore?" I took the book and started reading.
Paul admonished us, "Be transformed by the renewing of your mind…" (Romans 12:2) I need to renew my thinking on what a good husband and father is. Relying on my default knowledge and skills may be detrimental to my leadership at home.
Commitment is another important area. To be a more credible leader at home, I need to manage my time, talents and treasures and invest these in my family. To be honest, I find it easy to invest these resources in my ministry – but not in my home. If I continue in this direction, my credibility in the eyes of my wife and children will suffer.
Before Israel entered the Promised Land, God spoke to His people through Moses:
Love the Lord your God with all your heart and with all your soul and with all your strength. These commandments that I give you today are to be on your hearts. Impress them on your children… (Deut. 6:5-6)
As I cultivate my relationship with God as my primary relationship and prioritize God-honoring values, my priorities should follow.
Chemistry is how I relate with my wife and kids. Building relationships at home – initiating, developing, maintaining, and deepening such relationships – does not happen automatically. Building trust, communicating acceptance, caring for my wife and kids all need focus and hard work. I cannot leave these to chance. I must learn how to love!
This requires constant learning through the word of God. First Corinthians 13:4-7 demonstrates how challenging love is:
Love is patient, love is kind. It does not envy, it does not boast, it is not proud. It does not dishonor others, it is not self-seeking, it is not easily angered, it keeps no record of wrongs. Love does not delight in evil but rejoices with the truth. It always protects, always trusts, always hopes, always perseveres.
Capacity is my ability to handle challenges, crises, and complexities that will come our way. Life is never smooth-sailing this side of heaven. Leadership requires grit and perseverance. I cannot shrink back or run away when problems arise. I must be courageous and lead my family through it all. I must provide direction for my family through the storms. Paul urged Timothy, "You then, my son, be strong in the grace that is in Christ Jesus… Join with me in suffering, like a good soldier of Christ Jesus." (2 Tim. 2:1,3)
God holds men accountable to be better leaders at home; otherwise we would not have the credibility to influence our family toward God's will and purpose.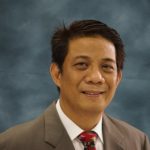 Bong Baylon is a leader, communicator, and mentor, and pastor at Real Life Christian Communities in San Pedro, Laguna. Together with his wife Gina, his passion is to raise up leaders and help them lead better, starting with their two sons, John David and Joseph Immanuel.