The author with her husband, Albert, and children, Hannah, 21, and David, 17.
In her essay Welcome to Holland, Emily Perl Kingsley likens raising a child with a learning disability to planning a vacation in Italy and then realizing your plane has landed in Holland. Your plans change: new language, new guidebooks, new people. It's beautiful, but different. Not horrible–just different.
So you watch everyone else come and go from Italy, talking about how wonderful it is. The pain of the loss of that dream to see Italy is something you will always carry. But she also says we cannot spend our lives mourning the gondolas, the cathedrals, the Colosseum in all its grandeur; the more time you spend in Holland, the more you notice the windmills, the tulips, the splendor of the Rembrandts.1
My own flight landed at 7:15 AM on February 4, 2000. We named him David Lenard—Dylan for short—after the lion-hearted shepherd boy in the Bible. We prayed he too would have strength of heart to face the intricacies of life, fight his battles well, and come out victorious. Little did we know then that our young David would have to face his own Goliath very early on.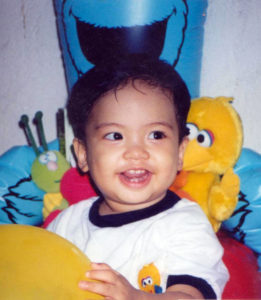 When Dylan turned 1 year and 3 months old, we noticed his speech delay. We brought him to a developmental pediatrician, who advised early intervention through occupational therapy to improve sensory integration, motor skills, and attention span, and address other related issues. We equipped ourselves as best as we could, but the same question burned at the back of my mind: What if there was more to it? All I could answer was that I didn't feel ready for it.
At around age 3, he was diagnosed with speech delay, more specifically expressive-receptive language difficulty. He could clearly utter only about 10 words; he mostly babbled, used hand gestures to get a point across, and would bang his head when we didn't understand. He was sensitive to sound, as well as to various textures. His other skills were developing well but his language was not at par with other kids his age. At age 4.2, his overall language age was only 2.7 years old, leaving him two years delayed.
He was particular about patterns and schedules, and would line up anything he could get his hands on: toy cars, videotapes, marshmallows. Words had limited meaning. He knew 'banana' but not 'fruit'; 'wash' only applied to washing hands.
He soldiered on; we did our best to come alongside him. Slowly, phrases turned into sentences. With every passing year, we felt we were getting a better handle on the situation. But with every step forward, it also seemed like we were slipping two steps back.
Reading became an increasingly tedious task when he reached preschool. He said letters looked strange, upside down or overcrowded, and that reading made him tired. We decided to take him to the Readability & Literacy Center for assessment, not wanting to keep guessing and waiting for him to catch up. If the evaluation confirmed our suspicions, we would have a better idea of the direction we should be heading towards.
A few months after turning 7, David was diagnosed with attention deficit hyperactivity disorder, dyslexia, and other persistent language processing difficulties. He'd struggle with different aspects of learning possibly for the rest of his life. As the doctor told us this, he peeked into the clinic and saw me crying. On our way home, he asked, "Why is Mommy crying? Is it because I cannot learn?"
My husband Albert also remembered that Dylan asked him, "Dad, when I grow up will I learn how to read?" Albert was quick to answer, "Of course, son! You will learn how to read! We will help you!"
First, we had to accept the situation so we could acknowledge his needs and help him through his difficulties. It would be a long road ahead of us, and we wanted to make sure he knew he was loved and that we'd be there every step of the way.
In the book Overcoming Dyslexia by Dr. Sally Shaywitz, dyslexia is described as "an encapsulated weakness resulting in slow reading surrounded by a sea of strengths."2 Dyslexics have difficulty processing what they see and translating them into words that mean something. Attaching words to sounds can also be hard, causing them to say something they don't mean.
Dylan's developmental pediatrician, Dr. Marie Arranz Lim, had a very positive outlook. She recommended that he be enrolled in a regular-curriculum school. We were very happy to find Nest School for Whole Child Development, which welcomed us with open arms and became a haven for our family.  We couldn't do it alone, so God provided a supportive network of doctors, teachers, therapists and reading specialists.
David still struggled throughout elementary. We cried together countless times. On some days, a hug would be enough to ease his blues. On others, he'd come home crying, "It's hard, Mommy. I don't know the answer. I can't do this."  But he didn't give up, and neither did we.
He read his first book, Clifford the Big Red Dog, ­on August 17, 2006. He was 6.5 years old. It was a joyous moment!  By the end of first grade, he was passing his subjects with flying colors. Inspired by a teacher, he wrote his own "book" in 2008 entitled "Family Life: A True Story Book", that was placed in the school library. He began writing in a journal and slowly transitioned to reading chapter books—and he hasn't stopped since!
We rejoice that he's come a long way, and so has his faith. In seventh grade, he took a bold step and shared his story in class. Afterwards, one student gave him a note that read: "David, you were brave to share your story in class. I wish I had the same courage as yours to talk about my depression."
Our lifeline in this journey is CHRIST.  We can hope for the future because we know that God can be trusted.  Lamentations 2:19 says, "Lift up your hands towards Him for the life of your young children."  God listens to the prayers of parents for strength of heart to face each day.  It blows my mind when I think that the God who created the universe also created our son, so uniquely and wonderfully.
I've experienced countless tender moments with David.  When he was 4, I once entered his room and saw his hand up in the air.  I asked what he was doing and without hesitation, he exclaimed, "Mom, I'm holding hands with God!"
Hold hands with God — that's what we're learning to do as we face a situation that is way beyond us. I'll never forget the day he told me, "Mom, please be patient with me." He's right: I need to be patient with him, and with myself too.  When I'm at a loss over how to help him, I just stop and hug him and tell him again and again how much we love him. And we will keep on loving him. We won't give up on him, no matter what.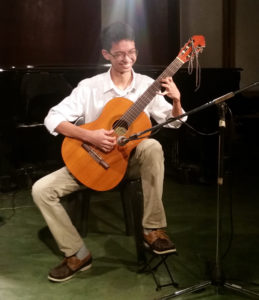 Now in eleventh grade, David continues to make remarkable progress. He's been a consistent honor student, plays active roles in school musicals, and has had several classical guitar recitals. He loves poetry, and has developed an interest in theology and reads vigorously to expand his knowledge. But most importantly, he continues to grow in dependence on God. So do we.
Seventeen years ago, I didn't know what to expect when I "got off the plane" and landed in my own "Holland". Each passing day offers the choice to trust Him to walk before us, to open our eyes to see the beauty of His miracles. By His grace, the view is incredible.
_______________________________________
1 I first encountered this essay from the book Extraordinary Kids (Colorado Springs, CO: Focus on the Family, 1997) by Cheri Fuller and Louise Tucker Jones.
2 (New York:  First Vintage Books, a division of Random House, 2003)

Marife Medina-Palima serves with Family Life Philippines (a ministry of Philippine Campus Crusade for Christ) together with her husband, Albert. Marife and Albert have two children: Hannah, 21, and David, 17. (For more information about FamilyLife Philippines, visit their Facebook page, FamilyLife Philippines), or contact 412-5428 to 29.)