Growing up, no one told us that the world was unfair to women. It was a truth we had to find out for ourselves as we observed the differences in how we were treated and raised, and the history and evolution of those differences.
Of course, this is not our fault. This unfairness is driven by a powerful and stubborn system of inequality that has been around for a long, long time. It is the belief that women are of less worth and of less value than men.
Sure, when you think about it, it's easy to disprove. But in reality, both men and women unknowingly subscribe to such beliefs, in the same way that we download an app without reading the terms. Sometimes, it can be so subtle that we don't realize its influence on our thinking, conversations, and actions. It's something that can pervade our households, communities, governments, and even our cultures and traditions.
As we celebrate Women's Month, let's ponder on things we can start, stop, and continue doing to work towards a world that is fairer and "more equal" for both men and women.
Start educating girls and boys early. Like anything, values are learned during childhood. It's important to actually tell kids that inequality exists, but that it shouldn't be the case.
Sons should be taught to respect women because they are worthy of respect. Daughters should be taught of their self-worth, and how to demand respect from others. It's important to give girls and boys equal airtime to express their thoughts, and the chance to choose which toys they want to play with. Sons and daughters should feel they are equally loved and valued.
There is a greater pressure for fathers and sons to actually step up, because perpetrators of gender-based violence and sexual harassment are men more than 90% of the time. Boys must grow up understanding the gravity and extent of their role. It's not enough for men to not hurt women. Men must take care not to participate and contribute to a culture that hurts women—for instance, the rape culture.
If "boys will be boys", then girls will continue to be treated unfairly and unequally.
Stop being polite when correction is called for. I remember telling a friend that I have a different 'voice' when addressing strangers or talking to drivers – direct, no-nonsense, a little less friendly. And I walk differently when commuting compared to when I'm in the mall – faster, head down, but sensitive to my surroundings.
Girls have learned to adjust their behavior for their own safety and to avoid attention. We keep our head down or look at our phones even when stares and catcalls are directed our way. Fortunately, policies like the anti-catcalling law are giving women more muscle to call out and report harassment.
But what happens when the indecent words or behavior come from people we know?
The default is to be quiet and polite, in one ear and out the other. While this choice is convenient and helps us avoid embarrassment and confrontation, it is also the choice that allows the same behavior to continue. I encourage all women to stop being polite when correction is called for.
If the source is a colleague or a classmate, a private and sincere conversation could effectively work wonders. If the source is someone in authority, it may be easier to talk to a mediator like a team leader or a supervisor, or a student leader or officer. Formal mechanisms of filing an official complaint or report exist for this very purpose.
It's important for women to realize that unless the culture is countered and the behavior is corrected, there will always be a "next girl" who could be harmed by the same experience. We always have to look out for the next girl.
Continue honoring the women in your life. Whether it's your mom, lola, sister, or friend, the women of history, or your personal heroes, honor the women in your life. Be an encourager, a supporter, a listener, and an ally.
There is a strange subculture where women actively put down other women. This is rooted in the misguided idea that women somehow have to compete for value, thinking, "By decreasing her value, I increase mine". Unfortunately, pop culture and the media often support this narrative.
In working towards a "more equal" world, we cannot afford to put down other women. Doing this is taking two steps backward for every leap ahead. We should honor the women in our groups, classes, workplaces, and fields. We should practice celebrating one another's victories and milestones and stop harmful comparisons, gossip, and hate talk.
Women's month honors the women who fought and won the wars that brought us where we are today— still going and still fighting. We do this so the world's sons and daughters could live better, fairer, and "more equal" lives.
And really, there should be no stopping us.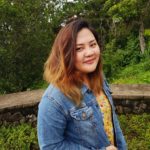 Micah M. Nazal is a freelance writer and digital content producer pursuing a masters degree in public administration at the UP National College of Public Administration and Governance. She worked as a community researcher in PHIVOLCS and plans to continue in the field of disaster risk reduction management in the future. You will likely find her studying in the library or drinking her second cup of coffee.