What a visual treat it is when streets are adorned with Christmas décor and flickering lights. It is the mark of a season that is jolly—a season of get-togethers and of merry-making. Indeed, it's the most wonderful time of the year!
Only in the Philippines will you hear Christmas songs playing as early as September. Christmas trees, lantern, and other ornaments take on our seasonal home decoration. Weekends are meant for shopping of gifts and prepare outfits for what seems to be a busy season of parties and reunions. It is our favorite month and we celebrate it with such gusto.
One evening, as I was driving along EDSA's traffic-laden road, an old man knocked on my window. The traffic was on standstill and he was just standing there patiently waiting. As I rolled down the window, he said, "Ma'am, mamasko lang po para sa pamilya ko." This is not new to most of us here in the metro. So, I asked him, "Manong, ano po ba ang ibig sabihin ng Pasko para sa inyo?" He unabashedly blurted, "pagbibigayan at pagmamahalan." Cynically, I thought to myself, Ok. Now I need to give you something? I indulged and gave him my stash of cookies in the car. He said, "Thank you and Merry Christmas."
This very incident made me think that the buzz of this season can drown the meaning of the occasion. In the words of that man, it is about giving and loving. "Have I been eaten up by commercialism that the real reason for the season has taken a backseat?" This thought made me mad. Stalled in traffic amidst a sea of red lights, I nudged myself to turn this feeling to positive. I said, "MAD is about making a difference. How do I make a difference this season?"
The good thing that came out of this incident are ideas on how to be MAD (making a difference) this Christmas season:
Closet clean-up charity. Give your nice pre-loved and unused clothes to people in the neighborhood or community – market or street vendors, security guards, or cleaners.
Simple noche buena in the street. Prepare your usual noche buena fare, pack them in boxes and go out. Share it with the homeless.
Children's cancer ward round-up. Arrange a visit to a children's cancer ward. Do some storytelling and bring gifts.
Give geria a chance. Visit a home for the aged or the hospital and ask for geriatric patients who hardly have any visitor. Come in a fun headdress and spend time with them. Get to know their story and check how you can help and support in any way.
Time capsule. Haven't seen an old friend or family member for some time? Bring some gifts and food. Invest time and effort to make your long-lost family or friend happy this season.
Hallmark note. Aside from gifts, hand out handwritten notes and give it to people who help you – your household help, your officemates, or to anyone you think you have taken for granted.
Good deed coupon. Extend the good by doing good and hand out coupons and give it to your friends. You may check out http://www.familywiseasia.com/a-very-familywise-christmas/ and print it out.
Clean-up drive. Arrange a clean-up drive of someone's home or front yard. It can be a solo parent, or an aged person who you feel needs an extra hand.
Scrimp and save for a cause. You can intentionally skip and scrimp on a dish or ham or queso de bola or castañas and donate this money for a cause.
Fasting instead of feasting. You may go the extreme and fast for three days. The intention is for you to pray for an intention of a family member or someone you know is suffering from any illness or has a nagging prayer request.
If you and I can do one or two from this list and encourage your friends and family to it with you, would that not make a dent?
As you celebrate the reason for this season, may it be a sufficient gift for you to know that Christ was born because you are loved. Please count your blessings and extend your time, treasure and talents to be that conduit of giving and loving. May this season be the beginning of a series of experience that will make a difference. Be MAD this Christmas, and be contagious.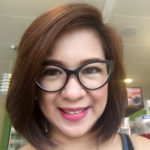 Alpha Gracias C. Allanigui describes herself as "a learner and lover of life, a marketing strategist by profession with a creative heart and a philosophical mind, an extroverted introvert, the queen mother of two young men, a sister to sibs and friends, a daughter to a couple of spritely individuals, and a proud child of God."