Last year, I went to my first Mugs N' Muffins event. The event, dubbed "an annual tea fellowship of women," was organized by GCF Women Ortigas for women from different walks of life. Several groups were invited filling both the first and second floors of the auditorium. Soon, three wonderful singers came out to sing worship songs. Their voices were so sincere and proud. I soon found myself singing along.
The main guest for the 2018 Mugs N' Muffins: Everyday a New Page event was Rica Peralejo. To some, she would be more known for her childhood acting, to some, her more risque TV roles. I simply knew her as a performer on ASAP–a Sunday musical-variety show on ABS-CBN. From what I could remember, she was always in the more daring dance numbers.
In her talk, she confessed that looking back, this was not at all a willing choice. She was brainwashed into thinking that without these less conservative performances, she would not sell. To the industry, this meant she was nothing. So she did what anyone threatened with worthlessness would do, she surrendered. For the price of worth, she gave up her dignity and freedom.
Her entire world shifted when she humored a Christian friend in attending a worship service. There, the pastor was preaching about the Healing of the Bleeding Woman. The Bleeding Woman had been bleeding for 12 long years, and Jesus cured her when she came to Him. Rica wept that day. It had been 12 exact years since she entered the industry. There, she lived in compensation to the freedom and choice robbed from her. For the sake of temporary escape, she drowned herself in vices that were almost expected for a celebrity of her status.
Rica then decided to take a leap of faith, and to start making decisions for herself. She took what good the industry gave her, and used them to choose her future. Everyone dissuaded her from this decision, and, Rica admitted, she wasn't unafraid. In her private prayers with God, she asked Him to show her the proper way, that she not stray from the path that was meant for her anymore. 
With every risk she took, God held her hand. Such was the price of faith. 
Rica's decision was not without risks. At the time, her entire family's financial stability, as well as her career going forward, hung by a thread. But the thread hung firmly with the belief that she now knew was true: she was more than a celebrity, more than a commodity. She was an entertainer, an influence, and more importantly, a child of the Lord–worthy of love, choices, and hope.
Today, Rica uses the gift of influence in her passion. She blogs and vlogs about lifestyle, family, and faith. She still struggles, but now she knows that there will always be someone who will hold her hand through the difficult points of life. The talk reminded me of all the times I felt my prayers were answered, all the times I was sure that the universe told me something. It reminded me that although my relationship with God grew distant through adulthood, He was always going to be there, a prayer away. 
I look forward to hearing more women share their stories of transformation through Christ. This year, another gathering for women by women is coming soon. Headlined by Precious Lara Quigaman, a beauty queen who is also a mother of two wonderful boys, the event will talk about her personal transformation story.
Mark your calendars for July 20, 2019 for Mugs N' Muffins: Once Worthless, Now Precious event at Greenhills Christian Fellowship Auditorium B. To know more, follow their Facebook page, GCF Ortigas Women's Ministry.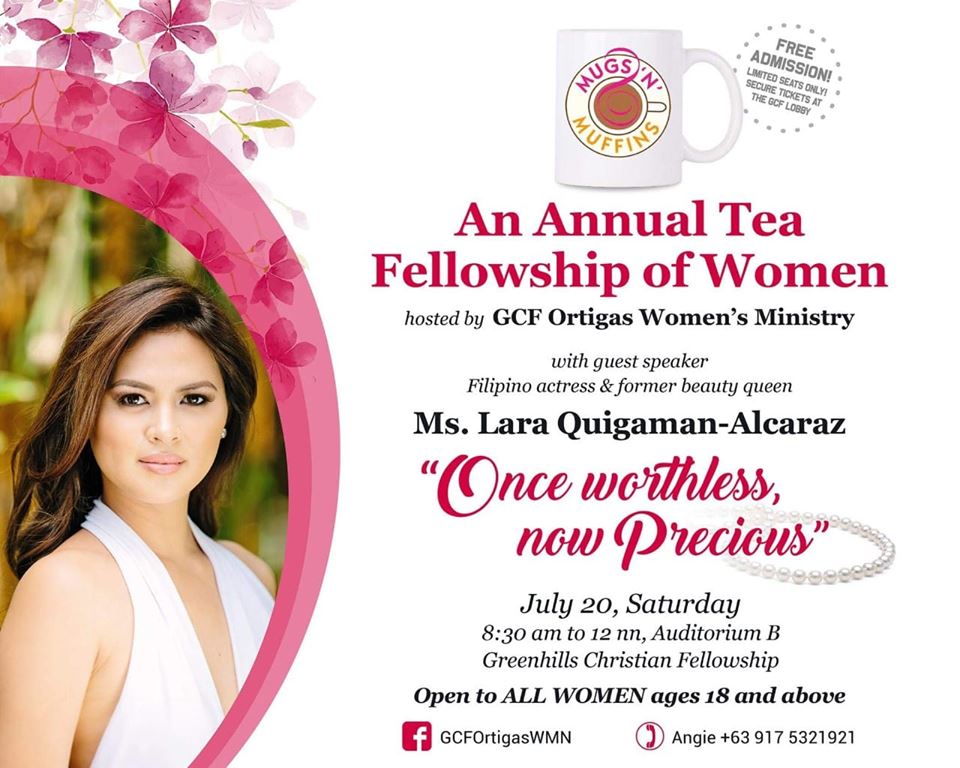 Patricia Li is a frequent contributor to Familywise Asia and Workwise Asia. She loves to read and write, and tries to incorporate this in her career.