Photo by Bruno Nascimento on Unsplash
There are quite a number of solo mothers in the country — in the millions — raising their own child or children.  Each has a unique story to tell. How do we act and react when we know and are around them?
I am sure for most, it would be with a shrug of a shoulder saying, "What's new?", others would say, "Good for you!", while some would be quiet while spinning stories of what must have happened.
Most single mothers would rather be incognito, scared to share their story for fear of judgment or of boxing themselves up with the mental dialogue of what should have and could have been.
As a single mom, I would like to say thank you for accepting us — but we know when we are being judged. We feel it. Yes, we are sensitive when it comes to this matter.  Just so you know, behind the façade is a woman with sensitivities. We appear strong because we have no choice but to be strong. We seem very independent because there are people depending on us. We always have a choice (as I am sure some of you would say) and as much as we have fallen short on some of life's most important crossroads, we know that being a single mother or a solo parent is a tough choice that needed toughening up.
But do you even care to know how we really are doing? What our motivations are? What help we need? And if you are a family member to a single mom, what is it that you need and need not ask us about?
In this day and age, let me run through you the very basics of the spoken language that can bridge unspoken animosity with genuine love and concern for others. Here is one incident that made me realize that simplicity and sincerity are the main ingredients to show care and concern.
One evening, after work, I chanced upon a member of our Board of Directors and had a chat with him. I said, "Hi, sir!"
He asked, "How are you?"
I answered, "I am doing okay, by God's grace. Thanks for asking."
The exchange at first seemed like a small talk. I wanted to walk away and leave the room, but he was looking at me with an honest, prying look. Then he followed up with, "How are your children?"
Given the randomness of the scenario and the sincerity of the question, I felt like I needed to answer with all honesty. At the time, my eldest son and I were going through a rough patch, and this scenario was something one does not openly share. As I tried to scan speedily in my head if should I share or not, I was prompted to answer because I knew I needed to loosen my pent-up anxiety.
"This is the problem with dealing with someone who is actually a good listener. They don't jump in on your sentences, saving you from actually finishing them, or talk over you, allowing what you do manage to get out to be lost or altered in transit. Instead, they wait, so you have to keep going." 
― Sarah Dessen, Just Listen
He listened intently and I knew that it was void of judgment. It felt safe for me to share. He did not volunteer any advice. Instead, he offered to pray for me.  It was heartwarming to know that someone can be spontaneous with this simple act of praying that I held on to this verse of promise: "God is our refuge and strength, a very present help in trouble." (Ps. 46:1)
Though this is not a common practice in most organizations, we can change the game and make a positive impact on someone. Among friends and family members, I think this should not be too much of an effort. 
There was an exhilarating freedom of some sort after the prayer. I do not know how to respond other than extending my thanks to him. To end the conversation he closed it with another question, "Is there anything I can help you with?" Truth be told, it was enough that I was prayed for, but I did ask for continued prayer.
However, if help is needed, I think one can offer within realistic bounds. To most of us, it's the thought that counts.
In summary, to lead an open conversation that shows care and concern for a single mom, remember to:
Put judgment aside.

Ask & listen intently.
Avoid giving advice.
Pray together.
Offer help by asking, "Is there any help you need?"
Suffice it to say, single mothers have no choice but to stand on their own. But we do need a listening ear and an understanding heart that can help us with whatever challenges it is that we are going through. 
When you really think about it, one need not be a rocket scientist to figure it out.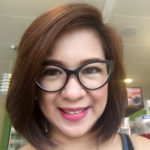 Alpha Gracias C. Allanigui describes herself as "a learner and lover of life, a marketing strategist by profession with a creative heart and a philosophical mind, an extroverted introvert, the queen mother of two young men, a sister to sibs and friends, a daughter to a couple of spritely individuals, and a proud child of God."