Photo by Thomas Curryer on Unsplash
We love because He first loved us. (1 John 4:19)  If I had read this verse 14 years ago, it would not have made sense to me.  I was a successful man with a prospering business, a long list of accomplishments, good health, and a great reputation for leadership and integrity.  Having had several relationships, finding love was the least of my problems.
Monique and I met 18 years ago. She worked for the competition. I was impressed with her selling skills, and at first just wanted to pirate her. To cut the story short, we became a couple, lived together for four years and, outside of marriage, had kids. But mine was a "fake" kind of love, and she caught me several times with another woman.
Around that time, she got invited to church. I joined her later, and tried, but failed, to change. I discovered then that I could not change on my own strength. I wasn't really in control of my life and decided to give Jesus a chance. We surrendered ourselves to Jesus, and, in the process, discovered the real meaning of love. My life has not been the same since.
Suffice it to say, I learned a lot about love and what it truly is from the way Jesus loved. Here are some major lessons I learned:
Love is not a noun, it is a verb. It requires action! Jesus didn't just say "I love you" and just asked us to believe it.  He backed it up with action. He sacrificed the good life He had in heaven to live a human life here on earth just to reconcile us with the Father. Jesus didn't wait for us to be good to do this for us; He did this while we were in our sin. "…but God shows his love for us in that while we were still sinners, Christ died for us." (Rom. 5:8) To show that love doesn't count or hold score, He gave the biggest thing anyone could ever give up: His own life.
Love is not give and take; it is selfless and unconditional. Jesus showed us what real love is when He laid down His life for us.  Love gives and gives. It is not based on the condition, "If you do this, then I will…" Instead, it says, "I will… regardless of…" I wonder how many divorces and annulments would have been prevented if couples focused more on giving, instead of getting. Many couples stray and give up on their marriages when they feel unhappy because they feel they are not able to get what they want from their partners. Whatever happened to "through thick and thin, in sickness and in health, till death do us part"? Love is unconditional!
Apart from God, it is impossible to love. God doesn't just love, He is love. Unless we look to God and His example of loving, and ask Him to fill us to the brim with His love so we are able to love unselfishly, we can't love.  Loving without knowing God is like saying "I love you" without knowing what it truly means. That's the equivalent of not knowing what you are talking about.
Many couples try to do their own thing. Without knowing God and being filled by His love, relationships often fail because they cannot get over their selfishness. Marriage has a much better fighting chance with God in the midst of the relationship. That is why it is important for each partner in the marriage to have a personal relationship with God. And if you have a relationship with God, for all these reasons above, don't risk getting into a relationship with someone who has no place for God in their lives- as God's Word wisely counsels.
To recap: Don't just say "love"; back it up with action. And if you really love someone, love unconditionally as Jesus did. Lastly, if you want to know real love, then get to know God. Put Him first in your life. Then seek love in the right places, and don't force it. It will save you a ton of heartache.
Monique and I finally tied the knot in 2009 after being together for nine years. This year marks our ninth year of marriage, and I can say that had it not for Jesus, we would probably be long separated. Truly, when Jesus comes into the equation, nothing is impossible.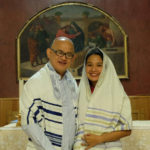 John and Monique Ong are entrepreneurs who have been into events management since 1991 and 2001 respectively. John is also a scuba diving instructor, writer and photographer, and Monique home schools their kids. Together, they have planted Revelation Community Church in Sampaloc, Manila, where they cater to the less fortunate sector of society.