In a previous article, I wrote that during the peer-impact years (12-18 years old), the primary influencers in our children's lives are their peers.
Although parental influence is important and needed throughout a child's life, the humbling reality is that parents can no longer just tell their teenagers what to do in this season of their lives. But that does not mean that parents should just raise the white flag and let their children's peers take over and "parent" their sons and daughters during this critical stage. On the contrary, parents have to exert more effort to fulfill their God-given role of shepherding their children's hearts throughout this challenging yet opportunity-laden years.
How does the peer impact phase look like for a teenage boy nowadays? Following are some of the major challenges that he will encounter during this life phase:
A period of uncertainty and insecurity. High school age can be a time of rapid physical growth and hormonal changes, which bring about uncertainties and insecurities: parts of his body developing, hair suddenly growing in certain parts of his body, pimples appearing on his face, voice becoming lower. He becomes unsure of himself, his body and his looks. He will be asking a ton of questions: What is happening to my body? Do I look okay? Do people like me?
A whole new, wide and wild world. Moving schools are an additional source of challenge. His world suddenly expands: new friends, new places aside from school and church, new opportunities, new experiences, and new discoveries. He begins to notice the opposite sex and becomes interested in them. He starts having crushes and becomes interested in dating.
A period of testing the boundaries and rebellion. This is a period when a lot of temptations abound. Our sons are exposed to a lot of sexual content and pornography that are easily accessible. This is also the phase when their peers encourage wrong behavior to gain acceptance—using foul language, cursing, lying, and even engaging in sexual activities. He experiences a lot of peer pressure, is bombarded with a lot of information from social media, and might even be faced with bullying issues.
Thus, our teenage son becomes susceptible to test the boundaries and rebel as he desires for more freedom and autonomy, to try new things and be different. It does not help that social media nowadays encourages him to openly voice out his thoughts and opinions without really thinking about its repercussions. He is led to believe that freedom of expression gives him the right to just freely say whatever he wants, whenever he wants, without considering other people's feelings and sentiments.
This can be a very tough period for our sons. So what can a father do?
1. Have the right perspective.
Our children do not really belong to us; they are a gift from God (Psalm 127:3, NLT). They are not intended to bring us glory, but instead to bring glory to their Maker. Our ultimate goal as parents, then, as agents to accomplish the Creator's plan, is for our children to love God with all their being—heart, soul, mind and strength (Mark 12:30-31).
All throughout our children's lives, we are in a constant battle for our children's hearts, because the motives of the heart shape the way a child behaves. Paul David Tripp (Age of Opportunity: A Biblical Guide to Parenting Teens) wrote: "The goal of parenting is not to focus on the right behavior, but to shepherd the hearts of our children… heart response and heart change are our focus because we know that what controls the heart will control the life."
Since our goal is for our children to love God wholeheartedly, a father must ensure that his son ultimately listens to, heeds, believes and obeys God's counsel so that he will not be easily persuaded by the prevailing peer culture, beliefs and mindsets, but instead, create a positive impact on his peers that will bring glory to Him.
2. Understand his world.
A father must know what goes on in his son's mind and what is taking control of his heart. So a father must enter his son's world to discover and understand the world his teenage son is living in and engaging with. Learn about his generation, their struggles and challenges. Listen to their songs. Understand the ideas being presented to them in social media, in school, in the books they are reading, the movies they are watching, etc. Know the voices that are speaking to your child and the messages that they are trying to convince him to believe. Parents have to keep a close watch on who and what is influencing his choices.
3. Walk in his shoes. 
Dad, you were a teenager once; you can somehow relate to what your son is currently going through. Remember what it was like when you were a teenager. Recall your experiences during your "wonder years." Learn to empathize with your Try to walk in your son's shoes by understanding his issues, challenges, and struggles.
4. Be present in his life.
Considering the many demands on a father's time, this will entail intentionality and sacrifice. A father has to know his priorities. You have to choose whether to attend an important event of your son or attend an important meeting that will affect your career.
5. Have regular father-and-son dates. 
These dates need not be expensive. What's important is you do something together regularly (e.g. monthly or weekly) that your son will enjoy, will allow interaction and help you get to know one another more. My sons and I have played basketball, chess, billiards, ping-pong and archery, watched movies, and jammed together on our guitars.
6. Create constant conversations.
Engage your son in constant conversations. Be Get him to answer beyond yes, no, or ok. Ask engaging questions. Instead of asking him "How was your day?", a more engaging question would be "What was the most awesome moment of your day?" Follow his answer up with "Tell me more about it." I've learned that sharing my experiences with them – especially about my mistakes – actually helps my sons identify and bond with me.
7. Listen actively. 
When your son suddenly confides to you about important things in his life, listen attentively. Resist the urge to give solutions or to judge his actions right away. Give room for feelings or "heart talk" to see what's inside your son's heart. This is difficult for us men who have been wired differently from women, but we need to learn this skill so we can empathize with our son and earn his trust.
8. Guide him to listen to God's counsel.
As his life coach, guide him to listen to God's counsel and to understand and embrace what God's Word says about his situation. This is in his best interest.
Encourage him to read God's Word himself, reflect on it, and respond. My wife and I are blessed to have equipped our sons to study the Bible on their own and to prioritize spending time in the Word daily. We are doubly blessed that we are able to encourage them to memorize and "hide God's Word in their hearts".
For example, when he is struggling with all the physical and hormonal changes in his body, remind him that he is fearfully and wonderfully made by God (Psalm 139:14). His value in God's eyes is not dependent on his looks, athletic prowess, academic performance, or on how he excels in music or in the performing arts. As Michael Ross and Susie Shellenberger wrote (What Your Son Isn't Telling You), fathers need to "do your best to reduce the importance teens place on the body as a source of self-esteem."
Dad, muster the courage to discuss sex with your son—or his peers might beat you to it. Help him realize that God's design for sex in marriage is beautiful, but the enemy is trying to distort and destroy God's design with lies. That's why we need to redeem it. Satan hates this and tries to hide it in the darkness. So we need to bring it out into the light and discuss it.
9. Intentionally look out for mentors.
Aside from his youth pastors and leaders, look out for mentors who can guide and influence him positively. Christian authors and speakers can be his "virtual" mentors. For example, Bruce Wilkinson "mentored" me and my sons as we went through his Personal Holiness in Times of Temptation DVDs and workbooks together. Brad Huddleston, through his book, Digital Cocaine, was instrumental in making my sons "hear" God's voice regarding the dangers of digital addiction, excessive use of gadgets, destructive video games and pornography that they were at first not very receptive to. Our whole family is currently attending an Apologetics class to help us learn how to defend our faith against man-centered ideas and philosophies they are exposed to.
10. Pray for and with him.
Finally, never live a day without praying for and with your teenager. The battle for the hearts of our sons is an intense spiritual battle, therefore, the best way to fight this battle is on our knees. Second Corinthians 10:3-5 reminds us:
For though we live in the world, we do not wage war as the world does. The weapons we fight with are not the weapons of the world. On the contrary, they have divine power to demolish strongholds. We demolish arguments and every pretension that sets itself up against the knowledge of God, and we take captive every thought to make it obedient to Christ.
Not praying for your teenager is like sending him to battle without any protection. Pray that God would rule the hearts of our children, cause them to love Him with all of their beings, and glorify Him in everything they do.
Dad, it is never too late for you to become the father that God ordained you to be. It may be difficult especially if you were not present in your son's life before or have committed a lot of mistakes in the past. But God is gracious. Ask Him to forgive and help you. Every day is a new opportunity to shepherd your son's heart. Recognize and seize the opportunities that God gives you each day, for His glory!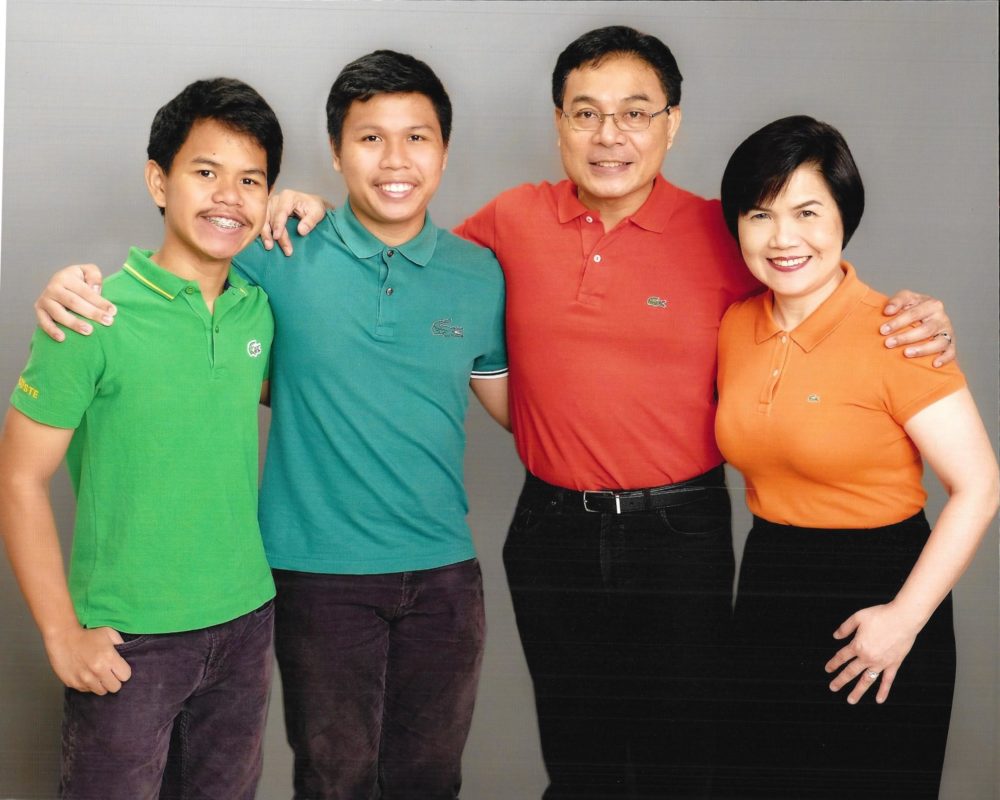 Aristotle T. Lumague is joyfully married to Dra. Rica Lumague, a surgeon, and the proud father of two teenage boys: AJ (Adriel Jireh) 18 y.o. and Ryan (Ryan Jeremy) 16 y.o.
In 2014, after working for more than 21 years in MERALCO, he took an early retirement to devote more time with his family and to focus on the things that God wants him to do.
Aris grew up without a father and was raised by his mom for the first 13 years of his life. By God's grace he was able to finish high school and college as a scholar. He finished electrical engineering at UP Diliman in 1991 and is a registered electrical engineer. He also obtained his MBA from UP in 2000.
His passion is sharing the good news of salvation to the lost.