One night, in October of 1991, I visited a friend about to go through spinal surgery the next day. She had herniated discs on her spine after a fall, and I was fearful that should anything go wrong in the surgery, she might be paralyzed from the waist down. I went to see her, wanting to pray for her and encourage her. Years later, she started exhibiting symptoms that might indicate a tumor in her pituitary gland. But in the time that had passed between these two health challenges, she had gone from being my friend to my fiancé.
Before Marife and I got engaged—even that first night when I visited her before her surgery—my heart was wrestling with how drawn to her I was, and how inadequate I felt to take care of her. All I knew and banked on then was God's faithfulness, and He was telling me to pursue her. So I did.
I made a vow, in sickness and in health, to love, honor, and cherish her. My eyes were wide open to possible challenges. Little did I know that God would open them to so many more things, especially the kind of love He had, not only for me, but also for my wife.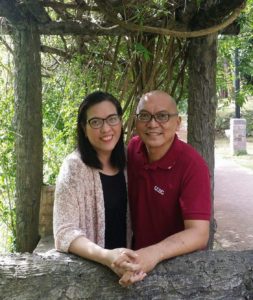 I didn't understand all of it at first. Her fragile frame and various sicknesses puzzled me; I grew up learning to cope with pain by either fighting it or ignoring it, and now it was something that the woman I love had to face constantly. The tough stance that had protected me all the years I spent before knowing her helped me get by, but it also kept me from seeing the fullness of God's love.
Being with Marife meant learning to be okay with feeling pain and persevering without hardening my heart. I had to reprogram the way I dealt with different kinds of needs, both my own and my wife's, from physical to financial to emotional to spiritual.
These needs surfaced slowly. In the first year of our marriage, we were hiking in Banawe when Marife started palpitating very heavily. For a moment she feared she was going to roll down the Rice Terraces and have a heart attack! We soon found out that she had a congenital heart problem aggravated by her thyroid problem. Surgery on her thyroid brought about healing and we were able to have two kids.
But in a span of nine years, her thyroid problem came back and caused problems again, so she had to undergo radiation. This meant she had to be isolated, keep a distance of about five feet so others wouldn't be affected by the radiation. After the treatment, Marife asked the doctor, "What about Albert? He has to drive me home in the car. " And the doctor wisely and chidingly said in Tagalog, "Albert kasama na 'yan sa sinumpaan mo." ("Albert, that's part of your marriage vow.")
Last year, Marife was diagnosed with an autoimmune disease that is incomplete lupus. Just the thought of it brings an additional chill to the daily aches and pains she has to deal with, having the lupus. This seems to be a different phase of learning in the good days as well as in difficult days.
In all this, I am learning from Christ what it means to love the He does: to weep with those who weep, to suffer with those to suffer, and to rejoice in His goodness, faithfulness, and mercy in every season. I am learning to persevere by seeing how He persevered. Such was His kind of love, and He invites me to learn to love my wife that way.
Once, following a difficult bout with an infection, Marife couldn't walk from the car to the house because of her swollen ankles. She clung to me and we shuffled to the front door piggy-back style, laughing through the pain, tiredness and worry. This seems to be how God invites us to cling to Him — piggy-back style. He continues to heal us and to provide for us. Every need is in His hands. He uses them to call us to Himself and to wait upon Him, and to find it in our hearts to obey Him, no matter what. It is in Him that we can rejoice and be thankful despite every challenge we face. My wife and I may share our burdens, but it is God who patiently, compassionately, lovingly carries us through all the way home.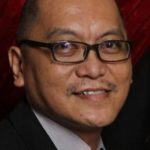 Albert J. Palima enjoys working with his hands — gardening, carpentry, playing the guitar — more than he does writing. He has joyfully been married these past 24 years to Marife, with whom he serves at FamilyLife Philippines, a ministry of Philippine Campus Crusade for Christ, where he is National Team Leader. He enjoys being a father, friend and travel buddy to his two grown up kids, Hannah and Dylan. Albert majored in Applied Mathematics from U.P. Los Baños and finished his diploma in Counseling at Alliance Graduate School.