The Familywise Asia Editorial Team has a newfound love for card games. For the past few weeks, we've been playing card games during all of our break times, and sometimes even staying a bit past our hours to finish *just* one last game—swear!
We'd like to share with you our favorite games, in hopes that you'll be able to play these with your children too!
Michelle Joaquin (Editor-in-Chief):
Card games are one way to get kids (and adults) away from their gadgets for a couple of hours and get the family bonding together. Lately, hubby Boris is trying to get our family to play Exploding Kittens. Boris is, by nature, strategic, so he loves this game. He got me to play it once during a double date with another couple. It was fun for me, but I saw the delight in him! I think I'll buy him his own set and get the kids to join. 
Almira Manduriao (Associate Managing Editor):
One memorable part of my childhood was playing Unggoy-ungguyan with my uncle almost every day after school. The mechanics are simple—each player has to pick a card from the opponent and drop a pair of cards. Last person holding a card is the loser, or in this case, unggoy. The odds of winning are always 50-50 but my uncle pretty much let me win most of the time so I could tease him of being the monkey. 
My card-game-playing-self slowed down after that. I only picked the bug up again in college when I learned to play Bridge. I used to imagine myself as a skilled card player and even wrote a list of games I wanted to learn and master. As my card shuffling skills stayed average, my checklist never got its checks either. Lol. 
Today, I retire to strategic tabletop card games like Organ Attack and Unstable Unicorns. They're both exciting and fun to play, with adorable illustrations to boot.  
Patricia Li (Editorial Assistant):
I've never been big on card games. The rules were always too confusing for me to remember. But Exploding Kittens was the gateway game for me in getting interested in more complex tabletop games. The rules are surprisingly easy to remember (Just don't explode!) and the illustrations are adorable. The game slowly builds intensity too when you're playing with friends. My personal favorite is when the deck is out of cards and the remaining players struggle to keep ourselves alive with only a handful of cards left.
Andreiana Yuvallos (Editorial Assistant):
Being from a huge family, loving card games was a must when I was a kid. We used to spend endless nights playing unggoy unggoyan, pusoy dos, and so many other card games that spark beloved childhood memories. The funny thing is though, my favorite card game as a child was never the ones you played with others, but the ones you played by yourself. I used to love playing Spider Solitaire as a kid by myself on my family desktop. Nothing could be more fulfilling than to see the stream of cards dancing around my screen when I've successfully accomplished a round of solitaire. 
Lotie Mercado (Editorial Assistant):
As a child, card games never really piqued my interest. I opted to bury my nose in novels, comic books and colorful teen magazines. I was charmed, however, when a pack of Unstable Unicorns was introduced by my office mates one lunch break. 
It was a game of wits and strategy sneakily packaged as a set of innocent-looking, pastel, unicorn cards. The objective of the game is simple: obtain seven unicorns in your "stable" and you'll win. This is easier said than done as all the other players will be trying their best to stop you from completing winning set. This game is sure to bring out everyone's competitive side and churn out just who is the best at mapping out a winning strategy.
What about you? What are some of your favorite card games?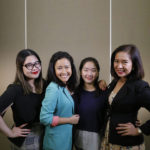 The Familywise Asia editorial team is composed of Alpha Allanigui, Almira Manduriao, Patricia Li, and Andreiana Yuvallos. Visit About Us for more information on the team.