Photo by http://scriptoriumdaily.com/real-advent/
One of Ryan Cayabyab's compositions about Christmas in the Philippines tells of the Filipino's favorite season coming year after year—same songs, same traditions, same frenzied gift-giving, same gatherings and reunions. But every time, we keep looking for that Christmas feeling, that magic in our hearts and minds. We call it the Maligayang Pasko spirit.
So how do we capture or recapture that? Is it mere illusion? Are we just kidding ourselves? How do we replace that empty, blah vacuum inside with something real, fascinating, vital?
Some people who study Scripture for their love of Jesus tell us that that getting into the meaning of Christmas is akin to responding to John the Baptist's booming encouragement, "Prepare the way of the Lord in the desert!" (Mt. 3:3, Mk. 1:3, Lk. 3:3-6: Jn. 1:23, cf Isa. 40:3) In the desert? Prepare? According to this, Christmas was for those who were depressed, who were going through desert experiences, who did not have apparent reasons to celebrate anything in their lives.
Generations have prepared themselves to celebrate God's gift of Christmas through many ways. We put up the star, the twinkling lights, the belen. We raise the Christmas tree. All of these are symbols with deep meanings, reminding us that Christmas was originally celebrating the coming of a King. One of the most significant ways to do this is by celebrating the Advent.
Advent is a word that means coming or arrival; specifically, the coming of Jesus as a baby. Thus, we use the traditional symbols and some that are new to help us focus on what the Bible tells us God intended Christmas to mean. We take the time to pause and meditate, appreciate, pray, sing or hum, read Scripture, and worship God for the gift of His Son, Jesus. We try creative ways to involve our senses—see, smell, hear, touch, and even taste. We do all these to dig into the whys of Christmas. We can do this in the closeness of family at home.
Traditionally, its celebration involves an Advent wreath surrounding three purple candles, a pink one, and a white one in the middle. To spiritually prepare the family for Christmas, family members reflect on passages of Scripture relevant to Christmas on each Sunday evening until Christmas day itself. As this is done, a new candle is lit every Sunday before Christmas, together with the ones already lit in previous Sundays, and the last one (white) together with the others on Christmas day itself. The deeper-colored purple candles are thought to represent spiritual darkness apart from Christ, the deep desire people in the Old Testament must have had for the Messiah's coming, and repentance from sin. The pink candle, typically lit on the third Sunday, signals eager anticipation as the Savior's birth approached, while its fulfilment is celebrated with the lighting of the white candle – symbolic of our joy at the Savior's awaited arrival. Each Sunday's Advent celebration is capped with prayer and songs of worship and anticipation, like the song Immanuel.
Some families also customize an Advent calendar – which can be designed as a large cardboard material with windows that are opened (typically by the children) one at a time each day of December until Christmas Eve. Behind each window is a verse or Scripture passage, an image or a Christmas symbol, or a portion of the Christmas story. Some calendars are made of fabric and use pockets instead of windows, filled with Christmas symbols in them or little gifts. The Advent calendar is used to build anticipation in the hearts of family members for Christmas.
But there is no one set way to do the Advent. We can be as creative as we can or follow tradition closely. The main point is to remember God's gifts. To help us do Advent, we can download traditional Advent guides from the Internet. Or we can do like my mother-in-law does with cooking meals—she uses whatever she finds in the house and tries to make something delicious and filling with it. We can make a game of it by asking family members to write down what Christmas symbols they see in the house, in the neighborhood, at the mall or other public places, etc. We can make a list and select a specific number to do together as a family while talking about it at specific times. If time is pressing and we can afford it, we can buy a number of these symbols. However we do this, we can pray afterwards so that each family member may experience that meaning this Christmas season.
To help us ponder the meaning of Christmas, we can read and talk about the following Scriptures: Isaiah 9:6, Matthew 1:18-25, Luke 1:26-35; 2:1-7; 1:8-20.
(Advent devotionals are available online, such as on YouVersion or crosswalk.com, for every day in December. As a special treat for families, FamilyWise Asia will post one Advent devotional every Thursday that may be used for every Sunday this December, starting this week until Christmas. – ed.)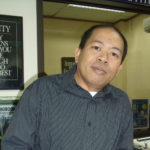 Nathan H. Montenegro is a full-time editor of church resources, weekend pastor, husband, and father of four millennials. For his recreation, he is always on the lookout for free science fiction e-books.