Photo by Jeremy Wong Weddings on Unsplash
Sometime ago, a mother told me her prayer request, "Please pray that God will provide the right woman for my son to marry."
I gently replied "I have a better prayer for you."
Intrigued, she asked "What's that?"
"That God will make your son the right man."
This prayer makes more strategic sense. The son has to be the right man so he can attract the right woman. Put conversely, if the son is not right, why would the "right woman" choose to marry him? More to the point, if the son is not right, why would God give that woman to him?
The same principles apply when a parent prays for a daughter, i.e. that God will bring the right man to her. A variation is that God will give the daughter wisdom as to choose whom to marry. But it goes back to the same thing: for the daughter to have that kind of wisdom, she must become the "right woman" who has grown in the ways of God.
If we are parents, this prayer will remind us of our responsibility. There is a certain passivity when we ask God to mold the heart of the would-be wife whom we have not even met. The burden lies in what we can do now, which is to raise our children to walk in God's ways. Therefore, we are part of God's answers to our prayers. We lift up an active prayer when we beseech God to work in the heart of our children. The activity has a direct and indirect component.
The direct component is the spiritual training of our children. We see this as far back as Deuteronomy 6:6-7, when Israelite parents were to teach the Law to their children. Fatherly exhortation is the device used in Proverbs 2 to 7. This concept is extended to the church in Ephesians 6:4.
What's the best way to train our children? By personal example. My spiritual mentor once told me, "Nelson, if you want your disciples to pray, they have to see you pray." Spot on. So if we want our children to savor the Word of God, pray authentically or be kind to people, we must model the very character we want to see in them. This is particularly true when our children are still very young and thus very astute copycats!
Another way is through regular conversations with your children. Lamentably, many parents give their children smartphones and tablets, then wonder why there is no meaningful interaction during family meals. Set limits on your children's use of such gadgets or better yet, give them books that nourish their minds and spirits. Schedule heart-to-heart talks with them and get to know your children.
The indirect component is to model a godly marriage. It is heartbreaking to hear young people say to this effect: "I am afraid of getting married. I have seen my own parents hurt each other and now they're separated. I don't want that to happen to me." Worse, the son sees the dysfunctional behavior of the father and carries it to his own marriage.
Far better, then, that we strive to be the husband or wife God wants us to be. This requires a mindful practice of virtues such as affection, patience, respect and service. It also involves an honest assessment of our weaknesses, such as the tendency to utter cutting words, and a determination to replace them with the opposite, such as the habit of gracious speech. That gets imprinted in our children and becomes the pattern by which they will relate to their future spouses.
Going back to the mother's prayer for her son, I am not saying she should not pray for her future daughter-in-law. Certainly there is merit in doing so, as God may be preparing that girl even now. I am simply saying we should neither forget nor abdicate our roles in our immediate sphere, i.e. as parents interceding for our children.
Never underestimate such a role. Early this year, a friend introduced Lucy and me to the books of Edmund Chan, the senior pastor of a Singapore evangelical church. We were blown away by his insightful writing and passionate preaching. What made Chan such as powerhouse for God's kingdom?
We learned that his grandfather had prayed for him every day "Lord, use my grandson. Use my grandson." What's more, he fasted for young Edmund twice a week. There are other influences in Chan's spiritual journey, but I find myself envying Chan for having such an intercessor in their family heritage.
Do you want our children to marry well? Pray for them, yes, but be part of that answered prayer. Be a godly model and raise them up well. Then, in that wedding day, as we watch our sons stand at the altar or as we give away our daughters in marriage, we will sense God's wondrous sovereignty that echoes His giving Eve to Adam. We will be overwhelmed with pride, joy and praise.
It will be the pithy moment when we realize that God honored our prayers more than we can ever imagine.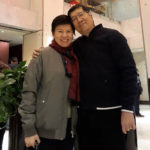 Nelson T. Dy is an author and speaker on career, relationships and spirituality issues. He has written ten books to date, including How to Mend a Broken Heart, The Honeymoon Never Ends, and How Do I Know "The One"?  For more of his insights, visit his website www.nelsontdy.com. 
He and his wife, the wonderful Lucy Cheng Dy, have been married for 15 years.