Today, I'm really grateful to be Eric's wife. He is God's gift to me. Recognizing that he and our marriage are gifts from God shows me that I have a responsibility to nurture and care for our relationship. Eric does, too. We're both stewards of our marriage. If you're married, so are you.
Since we're still in the first month of the year, it's not too late to set personal goals for the benefit of our marriage. I invite you to try the following principles and steps. Ideally, this process would be done with your spouse. However, it shouldn't discourage you from setting personal marital goals if your spouse doesn't participate.
First, begin with God. Pray and ask God to show you and your spouse what He sees in your marriage. Ask Him to guide you through the following process as you seek to be the spouse He wants you to be. Your marriage is important to God.
Assess your marriage. With your spouse, take a look at your relationship. This assessment intends to cast light on the state and health of your marriage, not to criticize it or each other. Look for strengths and weaknesses in your marriage. This will show you what goals you need to pursue later on.
You can assess your marriage in three areas:
Communication: Do you talk about different matters? Is there transparency? Are there healthy discussions of family and personal issues? Are decisions made in consultation with each other?
Intimacy in your relationship: Is there a growing emotional, physical, and spiritual closeness? Are you able to meet your spouse's sexual needs?
Roles: The husband's role is to love his wife; the wife's role is to respect and submit to her husband. How are you doing in your role?
Look at your contribution to the strengths and weaknesses of your marriage. This key principle and process emphasizes self-check. Out of this self-assessment will arise needs that will show you what goals you can pursue throughout the year.
The personal goals we set should only be dependent on us, or should be our responsibility to fulfill. We should not make goals for our spouse to fulfill because the pursuit of goals is an outworking of a personal, inner drive. But, we can lovingly express to our spouse later on what we desire to see in each other.
Reflect on: "What have I done this past year to build towards a stronger marriage and a better relationship with my spouse?"
Continue asking the following:
What have I been doing that helps strengthen the three areas in our marriage?
What am I doing or what attitude do I have that weakens our communication and intimacy, and makes me fail in fulfilling my roles? Where is my behavior coming from?
As you discover your strengths, be thankful to God for enabling you to add strength in your marriage. The second question will help surface needs waiting to be addressed. Be willing to say you're sorry for any shortcomings you realize. Resist the urge to blame your spouse or justify your weakness.
Identify and establish your goals.
Based on the strengths and weaknesses in your marriage, decide on what you will continue to do, what you will stop doing, and what you need to start doing to help you work towards a healthier marriage.
Be specific, even with the attitude you want to work on. Don't settle with "I will be a more loving spouse."
Envision how your goals will be played out in the practical sense, every day, every week, and every month.
Keep your goals simple and minimal. Aim for consistency throughout the year, rather than having too many and not see results by December.
Ask a trusted friend to hold you accountable and help you stay on track.
End in prayer. Ask God's blessing and help for you to develop new, good habits.
Share with your spouse your personal assessments, discoveries, and goals. Whether you and your spouse decide to venture on this together or not, conclude this process with a special time together and share your discoveries, realizations, and goals set.
According to my husband, some goals he set for himself in past years included taking me out on dates more regularly and allowing me to take personal retreats. The dates were for our emotional connection to be strengthened and for us to ward off isolation. We both have busy schedules and isolating ourselves from each other can happen so subtly, we won't notice we've grown apart. He also wanted to encourage my spiritual growth, thus allowing me to take personal spiritual retreats.
For me, some goals I've set were related to my communication and roles as a wife. I wanted to grow in showing respect to my husband so I practiced using a gentle tone of voice, especially when I get impatient or pressured. I also learned to lessen my complaints, pausing to ask myself if what I'm about to say is beneficial or not.
Our marriage and our spouse are God's gifts to us. Let's cherish and nurture these well. With your spouse, assess your marriage. Then set goals for yourself, focusing on your personal stewardship of your marriage.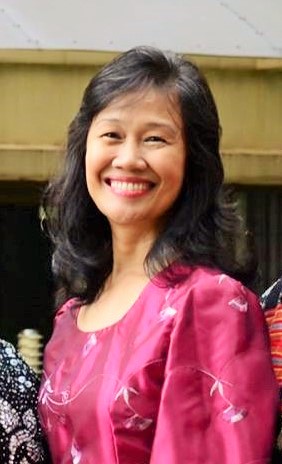 Michelle Agustin is happily married to Eric S. Agustin since 1995. Together, they serve as faculty and mentors at the International Graduate School of Leadership (IGSL). Michelle teaches wives from all over Asia and other parts of the world through the Partners in Ministry (PIM) certificate program, a program for wives of men in ministry. She and her husband are blessed with three sons, Nathan, Timmy, and Noah.