Photo by picjumbo.com from Pexels
What is Christmas without creamy fruit salad, sweet ham, and rich queso de bola? No matter how low our budget is, luxurious food is always set for the holidays. We reserve the very best, usually expensive dishes for Christmas Eve and Christmas Day celebration. We even try to diet as strictly as we can and scrimp on food weeks before the holidays to give more room in our tummies for extravagant cooking!
However, treats become threats when these result in post-holiday illnesses like tummy problems, hypertension and other disorders due to overindulgence. To find out how to enjoy December delectables without the consequential sicknesses, I asked two wonderful women, both experts in the kitchen and in food-loving, for ideas. Both cook for their families and patients, so they dare not neglect the needed nutrition from every meal.
Here's some help for families to have a fun, filling, but fitness-friendly Christmas feast.
Aim for Happiness in Health
A healthy holiday spread may vary per family, highly dependent on budget and traditions. This year, consider how your family's health condition can get better instead of worse through your food choices.
For nutritionist-mom Belle Puruganan-Villanueva, who partners with her husband-cardiologist in promoting good health by training and teaching medical personnel, caregivers and mothers, families must include dishes "from all the food groups in balanced amounts".
Integrative medical specialist and educator Dra. Susan Balingit's advocacy is for the Filipinos to realize that God has provided our country with wealthy food resources found right in our community. Evidence of such rich provisions is seen in "how strong Filipino children from the different parts of the country are–some kids managing to walk five kilometers, while some having to even swim, to school each day." Dra. Balingit encourages us to explore and appreciate how abundant and perfect our surroundings are as food supply for our climate, so that we don't need to get resources from afar or abroad. She adds that Christmas is the best opportunity to educate and expose our family to the prosperity our nation is blessed with, and to use local produce. Dr. Balingit heralds: "Let's stop being apologetic about Filipino dishes saying, 'Sorry, that's all we have.' but be proud to own what grows in the Philippines and feeds the average Filipino."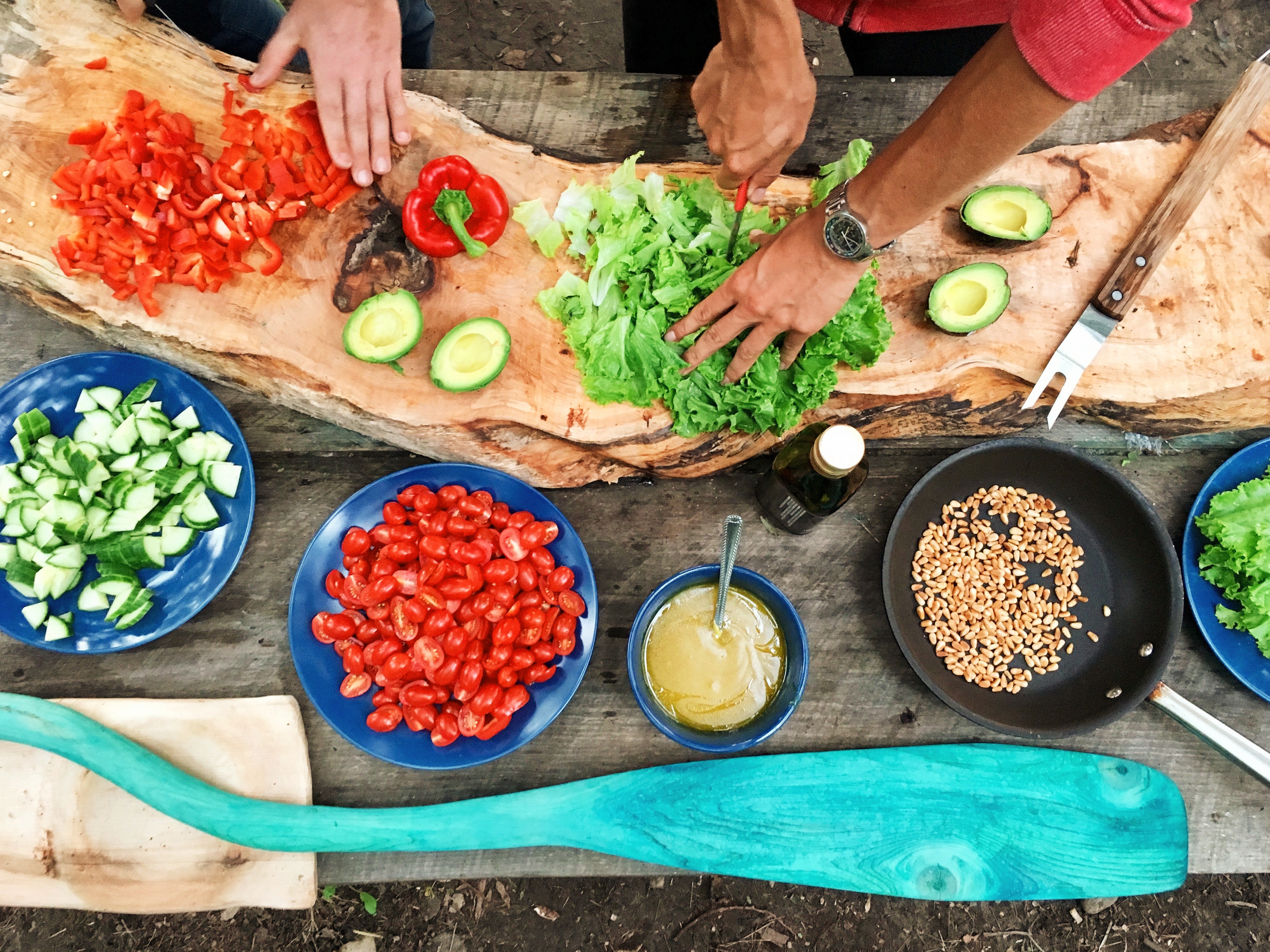 Bye-bye to Bland, Boring Body-Strengthening Bounties
For tasty nourishing dishes, Mommy Belle recommends "food that is marinated and cooked well, not overdone, seasoned properly, using herbs and spices in the right amount."  This agrees with what my mom, a Kapampangan known for culinary talent would always advise me: "Fry main ingredients like meat or tofu first, to seal in flavor before putting these into a pot for stewing. The right length of simmering time also brings about tasty results without burning, making the ingredients too tough to the bite, or not as crispy or melt-in-the-mouth fresh."
Dra. Balingit affirms that the more colorful the dish, the more appealing and nutrient-rich it is. That's why for those whose appetite is affected by their medical condition, Christmas can still be a time for treats! Without compromising diet, she endorses camote chips with laing topping for pica-pica, or baked camote slices sprinkled with salt & pepper as starters.
Dra. Balingit also applauds bringhe in lieu of Spanish paella using malagkit, black rice, mixed with unpolished rice with turmeric. Mix in broccoli, cauliflower, Baguio beans, squash, camote, sitaw, and sigarillas, all precooked in gata(coconut milk), and top with crispy eggplant and corn.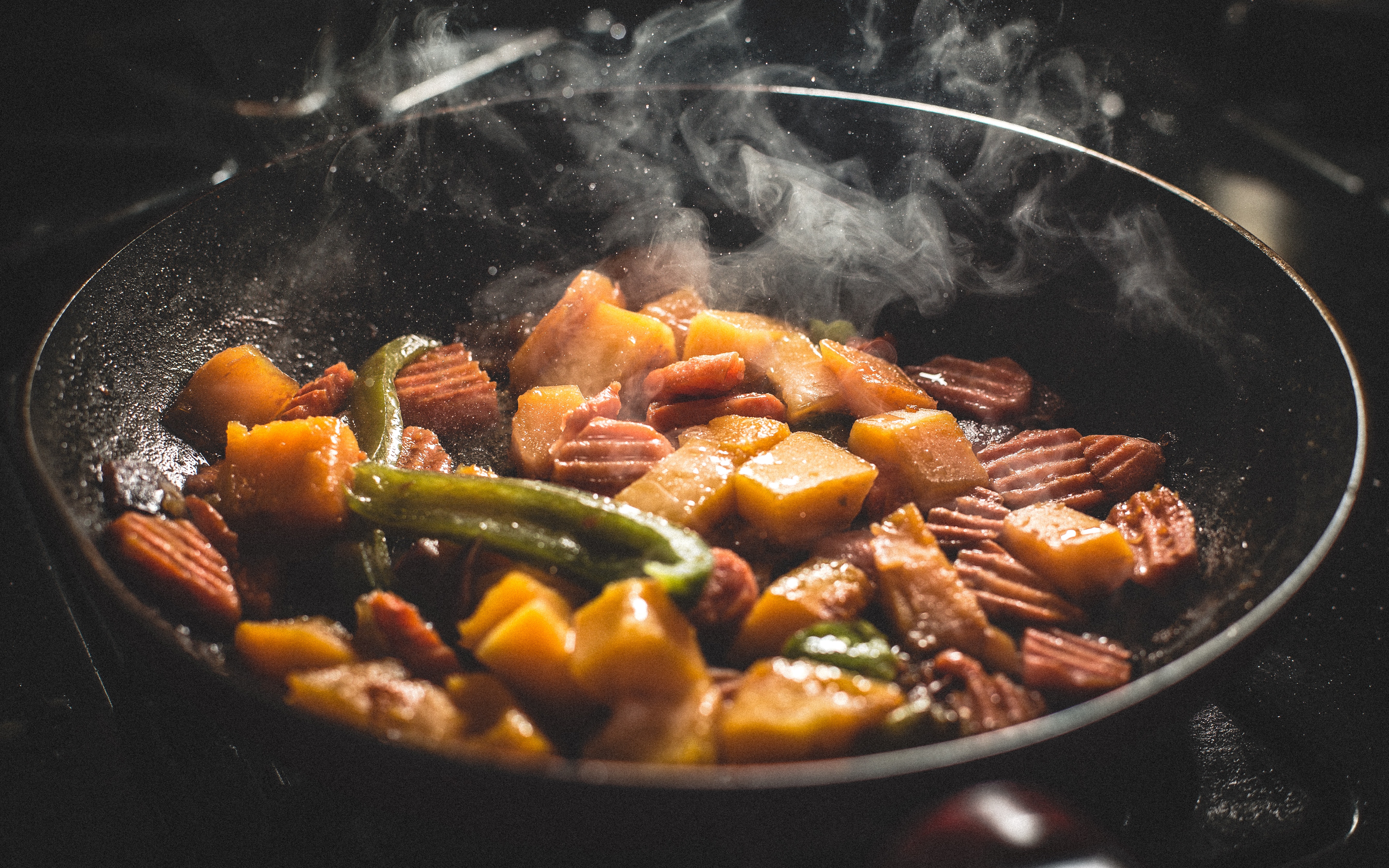 The colder months also usher in cough, colds and the flu virus so a warm soup of lemon grass, ginger, garlic (a mucolytic) would do wonders. Also try tinolang mushroom or organic chicken, with lots of papaya, another anti-inflammatory ingredient.
Remember your favorite ginataang kalabasa (squash in coconut milk)? Throw in some squash flowers, spring onions and an extra portion of gata! When blended, the rich sauce makes creamy mayo for sisig.
For your favorite sisig, use tofu, instead of pork, with pepper for its anti-inflammatory potency.
Also, an extra serving of gata when making kakanin makes dessert sweetly yummier.
For salads, be adventurous and use pako, pechay and labong (bamboo shoots) not just the usual lettuce. Mix these with powerful onions, tomatoes, calamansi juice or vinegar plus some sliced green pepper (siling haba).
Lavishly use red and green bell peppers as part of your dishes or as garnishing to give it that Christmassy look.
For meat-lovers, choose organic meat such as grass-fed pig for lechon. Opt to downsize too! This will avoid excessive consumption of fat, wastage, and leftovers to last you another month!
Make Everybody Happy, Every Body Healthy
For dining tables graced by both seniors and children, growing adolescents and people from different cultures, here's how to score high both in taste & good nutrition:
Use a lot of natural flavoring like spices, herbs, garlic, onion and ginger. Opt for sea salt and skip the usual sugar. Go for honey as sweetener.
Take it easy on the flavoring! On your table, offer a variety of condiments & fresh or dried herbs for each table guest to sprinkle on the serving on their plate, as personal tastes vary from palate to palate and depending on one's health condition.
Try to prepare at least one dish that is non-meat; one that is gluten-and-dairy-free; another fat-free and a fruity, nutty dessert to avoid sugar overload.
Trade-off Tradition
Traditional Christmas dishes are what we look forward to because as Mommy Belle, says these "identify with Christmas. These dishes are important, especially for the older family members to enjoy and to pass on to the younger family members. But a few new dishes will help family members to be adventurous with food-tasting and would be nice surprise additions to the Christmas menu.  There are many new recipes one can find in recipe books, tv food shows, the internet."
Mommy Belle's wisdom includes:  "Select the recipes you don't cook for daily meals, to make the meal special and festive.  And with so many restaurants, home chefs with online businesses, mothers don't have to stress with cooking all the dishes. Ordering has become a way of life to avoid stress."
This holiday season, try to be creative in preparing food that's good both for your palate and your body. Your taste is satisfied, your body strengthened.
Also, keep an eye out! We have some Christmas menu ideas coming soon!
Sources: 
Interview with Belle Puruganan-Villanueva, nutritionist doing Masteral Studies in Public Health and Nutrition, University of the Philippines, breastfeeding advocate, writer for health magazines, and worked as nutrition teacher and trainer with Medical Ambassadors Philippines.
Interview with Dr. Susan Balingit, Advocate of Use of Filipino Traditional Resources, Professorial Lecturer and Faculty – Family Life Wellness Center, La Salle, Alabang; Faculty- Graduate School of UERMMMC on Asian Health Studies.

More into numbers than words, Richelle Joson-Ligot grew up writing merely in her head and in her heart, making up stories and characters, mixing up syllables to mean a new idea, and recording these all on diaries and in cassette. A voice talent, homeschooler, creative consultant, and choreographer, she is gifted in many ways, but considers the best gifts in her life to be the people the Giver has blessed her with – husband Tot, and children Mishka, Nikita, Miro and Yakob.