Photo by Chris Sowder on Unsplash
For to us a child is born,
    to us a son is given;
and the government shall be upon his shoulder,
    and his name shall be called
Wonderful Counselor, Mighty God,
    Everlasting Father, Prince of Peace. (Isa. 9:6 ESV)
Who likes waiting? Do you?
Every day involves some form of waiting for us. We wait in line; we wait for our turn. We wait for what matters most to us at the moment – food when we are hungry, a ride when rushing for an appointment, a solution to a hitch in our pending project. We don't mind the wait as long as we need it. Otherwise, we would not sit around for it. When it is something our heart needs, we are open to waiting longer – that big break, for instance, or for someone to hold close to your heart. For these, we find ourselves patiently and expectantly waiting.
People during the time of Isaiah (739-730 BC) patiently waited for the coming of the Messiah. All of them confidently waited in hope of Christ's coming, even though when it happened, they were no longer around to witness it with their own eyes. Why wouldn't they? After all, they were waiting for the "Wonderful Counselor, Mighty God, Everlasting Father, Prince of Peace"!
I realize that common to all human beings are things people constantly seek after, wait for, and long to find:
Everyone needs love.
Everyone needs hope.
Everyone needs grace, mercy, forgiveness.
Everyone needs a Savior.
Isaiah 9:6 tells us that our Savior is Mighty. He is able to save us from eternal death and hell when we put our trust in Him. And if He can do that, He can come through for us as well in our day-to- day troubles, pains, problems, or stressors according to His will, in His time, in His way, for our best, and to the glory of His name. We have a Mighty God who genuinely cares for us, who concerns Himself with every detail of our every day, and who loves us so dearly as to step into our midst one Christmas time to save us from our deepest troubles once for all so we can live life with purpose, meaning, and to
experience life's fullness for eternity.
Looking for solutions to your problems? Troubled at the moment? Jesus has the answer you may be looking for. He is the Mighty God! This Christmas, wait for Him to act. He is near. He loves you. Let Him go before you. Do not overtake him. Follow His lead. Make Jesus your Lord and Savior.
But when the goodness and loving kindness of God our Savior appeared, He saved us, not because of works done by us in righteousness, but according to His own mercy, by the washing of regeneration and renewal of the Holy Spirit, whom He poured out on us richly through Jesus Christ our Savior, so that being justified by His grace we might become heirs according to the hope of eternal life. (Titus 3:4-8)
Jesus is Himself the answer to your heart's deepest longings. He is worth the wait.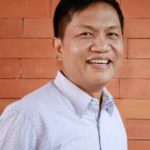 Great Bayani Mabuti is a homeschooling dad,educator, and trainer. He lives in Taguig with his wife,Tet, and two children, Honor and Integrity. The Christmas Advent was introduced to them when they visited Germany.