As early as September, Filipinos already put up Christmas trees in their homes. Christmas trees bring excitement to each Filipino household for various reasons. Some families use Christmas trees to house the Christmas presents they'll give to their loved ones. Some families put up their Christmas trees to stay true to the traditions of the holiday. Indeed, the presence of Christmas trees in our homes makes us feel warm and excited about the holiday. 
Aside from their presence, the decorating process is also an experience. The tradition of decorating a tree is an important childhood memory. We usually decorate them with garlands, poinsettias, balls, and lights, and top them with stars. Ms. Joy Mendoza, author, wife, and homeschooling mom, shares in an episode of Teach with Joy how we can amp up the holiday season by not just decorating, but building our very own Christmas tree with our families. 
Materials: 2 pcs. ½ inch plywood, rollers, paint brushes, white, brown, and black water-based paints, wall putty, sander/sandpaper, saw, gel pens or markers, tissue
Directions:
Build a Christmas Tree using plywood. Ask an adult for help and supervision in using the saw for cutting wood and putting the wood together.

Use a sander, sandpaper, and/or wall putty to smooth over the rough surfaces of the plywood.

Paint the tree.

Once the paint dries, draw and color on the tree using pens or markers.
Tips:
Get all the kids involved! The older kids can do research online on what design they'd like and supervise the whole project.

Make sure to keep the kids supervised especially when it comes to using dangerous materials.

The older ones can go over the mistakes of the younger ones.  It doesn't have to be perfect.

Have fun! Don't worry about the mistakes along the way, that's part of the experience.

Allow the kids to be creative and do their own thing. 

Have your child wear a smock shirt or an apron. It can be really messy!

Be involved, too! Make it a bonding experience that the whole family remembers. 

Document everything. Take lots of photos and videos to crystallize the memory of doing the Christmas tree together.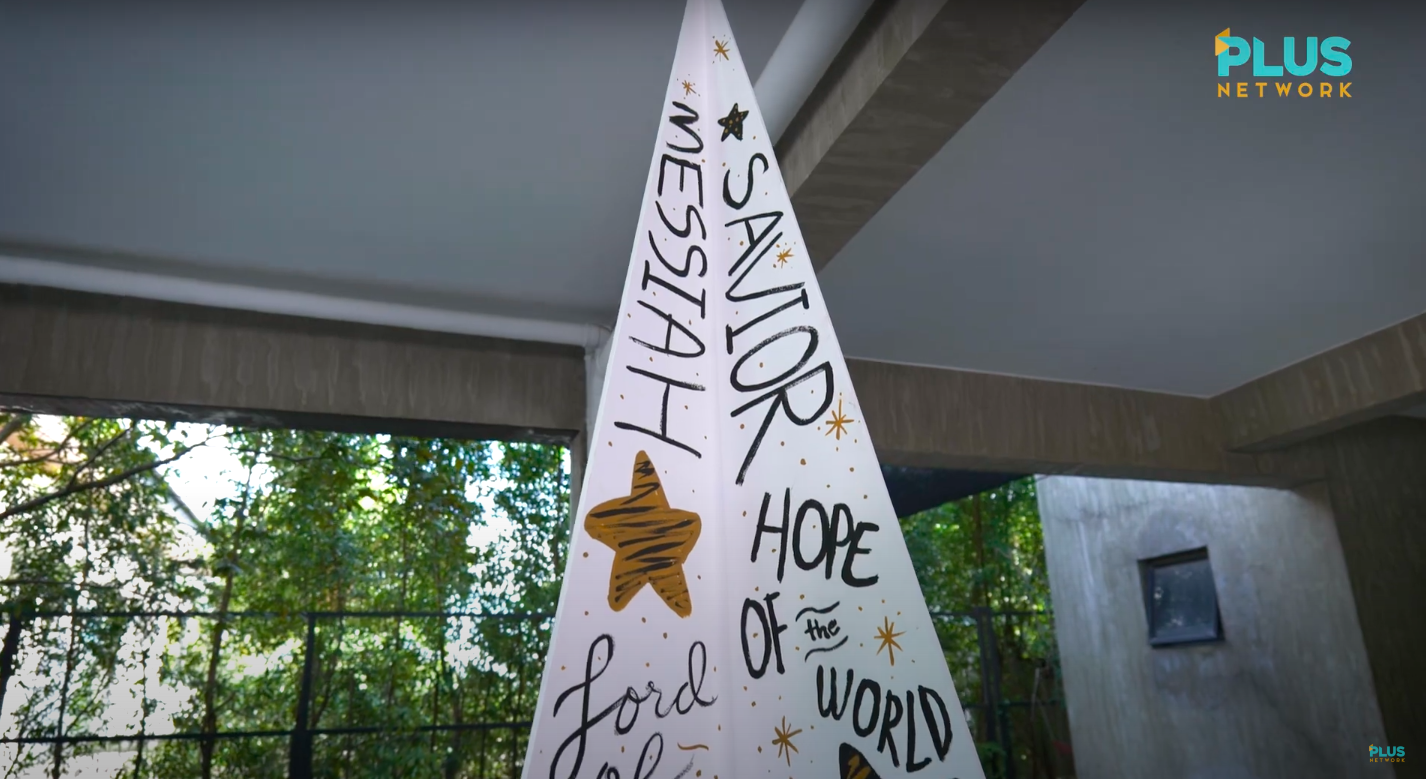 Edan Mendoza, Ms. Joy Mendoza's son, is said to be the mastermind of their family's DIY Christmas Tree. When asked how he came up with the design, he shared that he patterned it from their family's previous Christmas themes and his mom's love for modern and geometric styles. He furthered, "We learned the importance of working around each other's mistakes and forgiving."
The most treasured ornaments are those that capture a time and place in our history, perhaps something made by a child or a souvenir from a special holiday trip. For the Mendozas, it's the experience of building the tree itself. Every Christmas tree tells a different story and is meaningful in its own way.
For more parenting tips, you can watch episodes of Teach with Joy or visit Plus Network on Facebook, Instagram, Twitter, and YouTube.