Photo by Gus Moretta on Unsplash
When a couple gets married, each spouse brings into the marriage their emotional baggage as well. But how can a marriage recover when these baggages figure into the dynamics of the relationship and make them susceptible to weakness and sinning against one another?
Niño: I grew up feeling worthless — the youngest sibling among boys, and among my cousins on the father side, I got pushed around many times.  Nevertheless, when my father, an OFW, decided to stay home when I was 10, he encouraged me to study and strive hard. I learned to value excellence, perfection and success.
In my adolescence, I joined several church groups; and when that waned in my college years, I joined several community and school groups. My peers always told me, "Enjoy your manhood while you are single" ­– which for them meant going to men's clubs, smoking, drinking, and sleeping around. These groups shaped what I thought was "real manhood".
Mic: The youngest child of OFWs, I was left in the care of close relatives together with my older brother and sister at a very young age.  Although I understood my parents' need to provide for us, and despite their visits every 2-4 years for a month or two, I felt lonely whenever my siblings and I were left on our own – especially when our grandfather died when I was 13.
I feared being lonely, so I avoided spending time with my parents whenever they were home – afraid to get hurt when they leave again. As a result, I became very independent.   I got busy with the household and with friends while my siblings were busy with their own lives. I became secretive and entered a couple of secret relationships.
Niño:  In 2003, at age 27, I taught at the same college where Michelle was studying. She was 18 when I pursued her. When she became my girlfriend, we got intimate with each other. Ours was a forbidden relationship, and we learned to lie, make up stories and deny everything to her family.
Consequently, in 2005, I got her pregnant. I was ready to keep the baby, but she was not. As a result, we got rid of the baby. After several months of ignoring our mistakes, I got Michelle pregnant again. Knowing as early as the first month that we were having twins, we felt that we had no choice but to pursue the pregnancy. We could not afford to give up two lives.
Despite her parents' opposition, Michelle and I decided to get married. She was almost done with college. Eventually, they were left with no choice but to accept everything. I was able to pursue a corporate career, Michelle graduated with honors and passed the nursing board exams, and she gave birth to full-term twin boys.
By 2009, our life seemed fine. I was doing well in my career; my family was my inspiration. I was excelling in my work and in time was promoted. While our lives were going smoothly, we were again blessed with another baby boy.
Mic: My husband did exceptionally well in his career and provided for us well, as he promised. I was busy too, working in the operating room. But life began to appear monotonous and dull to me, so I started attending different hospital events, medical missions and parties. A different and thrilling life with new acquaintances unfolded before my eyes, and soon, I got distracted from my family. I became self-centered and materialistic.
On our fourth year of marriage, I got involved with a married man. The thrill and the adventure conquered me once again like a déjà vu: I lied, made up stories and denied allegations all over again. Niño observed that I got busy making myself up while being distant from him. I also incurred debts spending so much on myself.
In 2013, he finally found out about my affair, leaving both of us devastated.
Niño: I was facing a lot of challenges at work which almost cost me my job. So, when I discovered my wife's infidelity, my life fell apart. The woman I chose to be with for the rest of my life broke me in pieces. We fought daily before our children and exchanged hurtful words. Her parents and siblings could no longer handle her disrespect towards them. I felt that I no longer knew her. Worse, she did not stop seeing the man involved.
I was ready to end my life.  A colleague who saw through me encouraged me to see a counsellor. I tried to avoid the meeting, but in His great love, God made sure it would happen. The counsellor waited patiently for me at our meeting place. When we met, he told me of God's agapé  love for me, shown when He sent His Son, Jesus, to lay down His life for me, and through His precious blood, to save me from eternal death, the penalty for my sins (Jn. 3:16). All this time, I had set Him aside because of my own selfish personal desires. So without hesitation, I confessed my sins to God and repented of them, and by faith, accepted God's offer of forgiveness and invited Christ wholeheartedly into my life as my Lord and Saviour. Tears fell uncontrollably; I felt so relieved.
Mic: That evening in August of 2013, to my surprise, my husband handed me a Bible. He confessed how he had planned to take his life but did not pursue it. He told me about how the counselling he had just undergone transformed his outlook in life. I was weirded out by the changes I saw in him after that. On his first time to attend a Sunday worship service at Christ's Commission Fellowship, he invited me to go with him, but I refused.
I justified my actions, convincing myself that it was Niño's fault that I did not enjoy my single life; he got me pregnant and I had no choice but to get married. I was ready to part from my husband, my kids and my family. But all of them did not give up on me.
One day, the double life I once thought would give me freedom and happiness suddenly came to a halt. The person with whom I had an extramarital affair chose to escape this disastrous situation. I could not surpass this trial alone. I sought help and asked my husband to bring me to the couples who have been looking after him. In October 27, 2013, I myself came to know Jesus Christ and His sacrifice to save us from the burning flames of hell. Without hesitation, I accepted Jesus as my Lord and Savior (Praise God!).
Both my husband and I lost our jobs and some of our valued possessions around that time, a punishment I thought I had to pay for. But God taught and reminded me: "But seek ye first the kingdom of God, and his righteousness; and all these things shall be added unto you…" (Mt. 6:33)
After a year of restoration, I set my pride aside and humbly asked my parents, whom I had hurt so deeply, for forgiveness.
Niño: It was indeed hard to forgive and forget my wife's infidelity. But Jesus Himself said that we are to forgive "up to seventy times seven" times (Mt. 18:21-22 NASB). This is not just about forgiving my wife in the event that her word or actions hurt me whether now or in the future, but also choosing to forgive every time I remember her past sins against me.
Mic: Only through Christ can we be forgiven of sins we had committed in the past, and only through Him can broken relationships be restored. I continue to discover how amazing God is as I continue to walk with Him.
Niño: We are a work in progress. Now blessed with stable jobs, and our kids attending a Christian school, we continue to trust Him for everything, as He invites us in Proverbs 3:5, 6. With Christ in our family, our relationships are improving each day. Our bond with our children, once stained with fear, anger and hatred, is way better than before. Our family is now experiencing true happiness. All honor and glory to the one true God!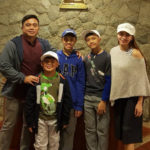 Niño and Michelle Suarez are parents of twins Irvin and Ivher, 11; Iñigo, 8; and another one on the way. Their family is part of Christ's Commission Fellowship. They believe that their purpose as a couple is to share their life-changing testimony to give honor and glory to God.