Photo by Lisa Fotios from Pexels
Excerpt from BREAK: Conquering Burnout with Sabbath Rest. Reprinted with permission from CSM Publishing Inc.
I had just flown in from a two-day marketing competition in Manila. My first agenda upon landing was to hit the ground running and rush to a client meeting within an hour of landing. I had flown two flights, slept only twelve hours total in the last three days. Prior to that, I finished two marketing campaigns, three events, seven presentations and a marketing competition for a national award as Outstanding Marketing Student of the year.
It's crazy what my lifestyle was like seven years ago. Apart from being a full-time student —then twenty years old —I was also founder and chairman of a non-profit for the arts, a freelance marketing consultant, branding consultant, videographer, photographer and designer.
While driving to my meeting, I felt a sharp pain on my lower back. This uncomfortable feeling felt all too familiar. I had experienced that sensation before, and it didn't end well: my pneumothorax was relapsing – a condition where the lung collapses when it's punctured at the lining. In my case, I had developed blebs on my lung lining that erupt when I get too exhausted from work-related stress. In other words, my lungs occasionally fell apart because I did not know when to pause and rest.
At the hospital, it was confirmed: fifteen percent of my right lung had deflated.
Working hard shouldn't be a bad thing, right? Beats being a bum. But apparently, hustling non-stop isn't a good thing either. I was burned out – exhausted mentally, physically, emotionally and even spiritually. I was losing passion, reading my Bible less, getting irritable faster, and that's just the beginning. I knew what was wrong: I had neglected rest.
Rest is not my strong suit. Beyond watching my health fail, my wrong mindset and bad practices led to a lifestyle that did not honor God. This led me to change the way I work by changing the way I rest, and why I believe we all must too at some level. I learned the hard way but one I am extremely grateful God taught me.
I'm sure many of you have experienced a certain level of lack of rest. Maybe you live in anxiety, fear, busyness or a certain level of overwhelm. We all struggle to find and maintain meaningful and effective rest. Professionals, executives, bankers, engineers, businessmen, students and even retirees can get burned out and exhausted. We know how to work for something, but a lot of us do not know how to rest from everything – and more importantly, how to find rest the way God intends us to.
At the heart of missing rest is the failure to put our faith in God completely – an endeavor many people, even Christians, fail in.
Pete Wilson of Cross Point is one dynamic and powerful leader, but I did not see the same person I had watched many times before. I saw someone completely different- someone exhausted and dismayed by burnout. "I really need your prayers and I need your support," said Pastor Pete. "We've said that this is a church where it's OK to not be okay, and I'm not okay. I'm tired. I'm broken, and I just need some rest."
How many times have we watched great leaders, ministers, executives, fathers and mothers, husbands and wives fall flat on their faces while running a marathon exhausted?
If we want to live meaningful lives, we need to spend majority of it doing meaningful work that serves both God and others. But where would we be if we pursued meaningful work without a strong foundation of meaningful rest?
Even the great and faithful King David often dealt with burnout. "I am poured out like water, and all my bones are out of joint." says David (Ps. 22:14). "My heart has turned to wax; it has melted within me." But in another place, the King declares: "One thing I ask from the Lord, this only do I seek: that I may dwell in the house of the Lord all the days of my life, to gaze on the beauty of the Lord and to seek him in his temple" (Ps. 27:4).
Burnout can be a messy place, one that many of us will find ourselves in at multiple occasions. In such times, God desires that we do one thing: to come to Him for rest.
Rest is an ingredient to a life lived more abundantly – what Jesus desires we all experience (Jn. 10:10) — the kind of life that He paid for dearly with His own blood to have you live out. When we fail to rest, we fail to maximize the new life that Jesus paid for. When we learn to make better use of rest, we maximize this great blessing and privilege God paid for with the life of His own Son.
Rest is vital if we want to work hard and commit to purposeful work. It reconnects us with the rest of the things we are called to do — enjoying God's presence and numbering our days, spending time with family, reenergizing the body, mind and soul.
Our calling is the entirety of life: that may include career, but is not defined by it solely. It's also about experiencing God through family, friends, recreation, hobbies, helping others who can't return the favor, learning new things, getting deeper into His Word, experiencing God in private worship and prayer, travelling, staying at home, being loud, being quiet, your physical health, your mental health, and other things as well.
I'm not saying that we should just sit on a couch with a bag of chips all day. But being on hustle mode is just not sustainable. We need a breather to relax, recharge, restore and reenergize. That's why God wisely commands us to honor the Sabbath – a day of full rest. And more than just a day, godly rest is an attitude, a stance, and even a lifestyle.
Success at better and more meaningful rest does not happen overnight. You won't wake up tomorrow with cleaner schedules, less busy days and proper Sabbaths. Fighting for rest may even get harder, but it's a fight that is worth it.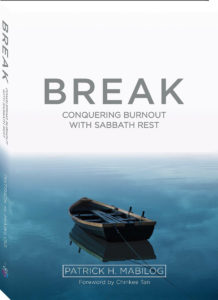 BREAK: Conquering Burnout with Sabbath Rest is one of the featured new titles at CSM Publishing (booth 71-76 between aisles P&Q) at the Manila International Bookfair currently ongoing until Sept 16, 2018 at the SMX Convention Center, SM Mall of Asia Complex.

Patrick Mabilog is a businessman, consultant, author, and speaker. He is the author of Break: Conquering Burnout with Sabbath Rest (CSM Publishing, 2018).
Patrick heads the People Development and Human Resource for Team Positive, the corporate arm managing the events, speaking engagements, marketing, training materials and books of wealth coach and speaker Chinkee Tan. He also runs a small creative strategy business, Block Ten Creative Strategy.
He and wife Ces are parents to daughter Alexa Margaret.